Press Coverage
​
The Hamilton Spectator
November 08, 2017
Link to story on The Hamilton Spectator website
​
Transcript:
Mahoney: Our very own waterfall crescendo
WATERFALL SYMPHONY
When Hamiltonian Scott Whittington was commissioned by Dundas Valley Orchestra to write a piece for them, they gave him more or less carte blanche. So waterfalls became his theme.
- Gary Yokoyama,The Hamilton Spectator
I fell into a waterfall in Hamilton the other day.
I know, I know. There's been too much of this kind of thing in 2017, and I should have to pay for the rescue effort.
I would. But the soaring cliffs of music over which Scott Whittington's waterfall symphony pulled me are their own emergency measures. The metric bars of harp, horn, strings, woodwinds and timpani, in moods rousing, meditative and sprightly, succeed in rescuing our spirits. Good for what ails us.
And you don't fall so much as get pushed — along by the irresistible momentum of the piece.
Scott Whittington has composed symphonic music about and for this city and country before. "Metro" in 2008; "3 Oceans" (for the occasion of the late Glen Mallory's retirement from the Dundas Valley Orchestra) in 2011; and others. (He also plays an encyclopedic and very stylish repertoire on piano at bistros, Muskoka resorts and area restaurants.)
When the board at the Dundas Valley Orchestra considered commissioning him to write another, at the suggestion of conductor Laura Thomas, the vote was a resounding yes.
He had more or less carte blanche.
You have to know Scott Whittington to know how he feels about this city, especially its natural splendour. If a tree falls in Hamilton and no one is there to hear it, Scott does anyway, it seems, with some deeper ear, no matter where he is, and he says something about it. He's a vocal advocate for natural and neighbourhood preservation.
"I've always loved the waterfalls," says Scott. "But this year (with all the rescues) it seemed that what was an asset now was becoming, not a liability, but a bigger bone to chew (than we thought, safety-wise)."
So, sitting down with his muse in the early part of 2017, it didn't take Scott long to choose the beloved cascades of our fair city as his ideal subject matter. "City of Waterfalls: For Symphony Orchestra," now complete, will be premièred Sun., Nov. 12.
"There's the yin and yang of the waterfall," Scott says. "So booming and powerful. Then there's the mist, peaceful and fragile." And the trickling watercourse, with butterfly.
And there it is in the music ... a butterfly. A flute sound, fluttering over the swell of other instruments at one point. "The butterfly," Scott says, smiling, when it sounds as I listen to the piece on his computer (it has, as yet, never been performed by orchestra).
The symphony, about 11 minutes long, is built around "a seven-note motif reiterated in myriad forms throughout. At times declamatory, at times gentle," Scott writes in the performance notes.
There are other interwoven melodic figures, sometimes featuring horns and strings, other times harp, oboe and trombone, with the whole composition cohering so harmonically and agreeably, like water itself, even as it assumes radically different shapes.
The symphony is turbulent with crescendo, of horns and harp in one phase, grooves on a jazz-flavoured trombone solo in another, floats contemplatively on a woodwind chorale in yet another, then releases tension with French horn or pizzicato strings.
"I wanted the harp to play a big part," says Scott. And it does, with cascading arpeggios.
In a work that operates in several musical idioms (classical, yes, but also jazz and popular), an almost tangible sense of the waterfalls' attraction emerges. There's the seduction of these natural wonders, but also the power and implicit danger (aided along by human carelessness and stupidity) that we've come to know too well this year.
"It's a love song to this city," says Scott, who grew up in Midland and thought, when he moved to Toronto, that it was the most wonderful place, until he transplanted himself to Hamilton and found it a truer home, a city, that had everything for him.
Not least of all, waterfalls.
The world première is at the DVO's fall fair concert, starting at 3 p.m. at St. Paul's United Church, 29 Park St. West in Dundas, on Sunday, Nov. 12. Admission free, donations accepted.
City of Waterfalls
WHAT: World première of 'City of Waterfalls,' by Scott Whittington
WHERE: St. Paul's United Church, 29 Park St. W., Dundas
WHEN: Sunday, Nov. 12, 3 p.m. on a program with pieces by Vivaldi, Woody Herman, Elgar and others. Admission free, donations accepted.
by Jeff Mahoney
Jeff Mahoney is a columnist with the Hamilton Spectator.
jmahoney@thespec.com
​
"I like to call it jazz-flavoured bistro entertainment.…"
A professional pianist and singer of over 35 years' experience, Scott Whittington has a hard time defining exactly what it is that he does when he performs, either locally or on the Muskoka resort circuit, where he has performed steadily for 26 years. "It's either jazz with a pop flavour, or pop with a jazz flavour, I'm not sure which. Throw in a touch of soul and a pinch of bossa nova and you've got an idea of what I do. It's kind of Frank Sinatra meets Elton John meets Ray Charles. The music I play is a reflection of the music that I love most.
Brought up in Midland, Ontario, on the shores of sparkling Georgian Bay, Scott Whittington was fed a diet of jazz and classical music by his parents, but branched out at an early age, playing pop, blues, Dixieland, funk, and rock and roll. A four-year bachelor of music degree in clarinet at the University of Toronto gave him the formal musical tools he wanted in order to move toward his personal music goals. He then headed out for several years on the hotel circuit as part of a duo.
"Six nights a week in Holiday Inns and Ramada Inns sharpens your chops and builds an amazing repertoire of songs", says Scott, and he began to accumulate what has grown to a 500-plus song list. While he is largely an interpreter of jazz and pop classics, Scott writes and performs his own material as well. An 11-song CD called "For the Love of it" was released in 1996 and quietly sold out its first pressing, receiving press coverage in five different publications.
Work on the Ontario resort circuit began to fill more and more dates in his gig book, and it is a large part of Scott's performance schedule. Many of Ontario's premier resorts, including Taboo, Cleveland's House, Fern Resort, and The Briars are regular stops, particularly during the busy summer season.
While he continues to enjoy his resort work, Scott has chosen to make more frequent appearances in his own city. "It's important to have a regular local venue where friends and fans can come out to hear the tunes they love and to request new ones", something Scott thrives on. "Playing requests is one of my favourite parts of the business." And his most common request? "Without a doubt, the biggest request I get is "Piano Man", followed by Moondance" and "anything by Ray Charles".
He is currently a resident performer at Spencer's at the Waterfront in Burlington, and performs frequently at The Vicar's Vice in Stoney Creek. He has been a frequent performer at Pepperwood Bistro over the last number of years as well.
Scott Whittington lives in a 100-year old home in Southwest Hamilton with his wife Marsha Moffitt, a cellist with the Hamilton Philharmonic Orchestra, a 125-year musical institution in southern Ontario.
​

​
​
​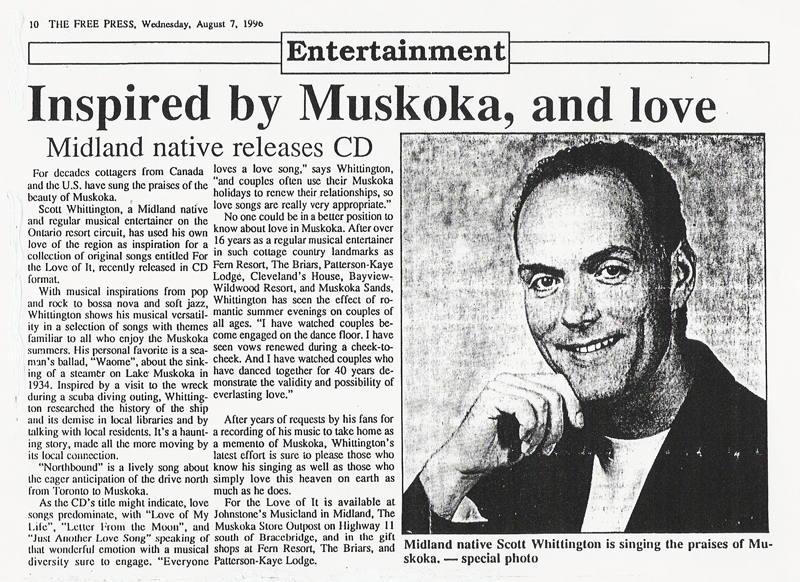 ​
​