Press Coverage
​
"I like to call it jazz-flavoured bistro entertainment.…"
A professional pianist and singer of over 35 years' experience, Scott Whittington has a hard time defining exactly what it is that he does when he performs, either locally or on the Muskoka resort circuit, where he has performed steadily for 26 years. "It's either jazz with a pop flavour, or pop with a jazz flavour, I'm not sure which. Throw in a touch of soul and a pinch of bossa nova and you've got an idea of what I do. It's kind of Frank Sinatra meets Elton John meets Ray Charles. The music I play is a reflection of the music that I love most.
Brought up in Midland, Ontario, on the shores of sparkling Georgian Bay, Scott Whittington was fed a diet of jazz and classical music by his parents, but branched out at an early age, playing pop, blues, Dixieland, funk, and rock and roll. A four-year bachelor of music degree in clarinet at the University of Toronto gave him the formal musical tools he wanted in order to move toward his personal music goals. He then headed out for several years on the hotel circuit as part of a duo.
"Six nights a week in Holiday Inns and Ramada Inns sharpens your chops and builds an amazing repertoire of songs", says Scott, and he began to accumulate what has grown to a 500-plus song list. While he is largely an interpreter of jazz and pop classics, Scott writes and performs his own material as well. An 11-song CD called "For the Love of it" was released in 1996 and quietly sold out its first pressing, receiving press coverage in five different publications.
Work on the Ontario resort circuit began to fill more and more dates in his gig book, and it is a large part of Scott's performance schedule. Many of Ontario's premier resorts, including Taboo, Cleveland's House, Fern Resort, and The Briars are regular stops, particularly during the busy summer season.
While he continues to enjoy his resort work, Scott has chosen to make more frequent appearances in his own city. "It's important to have a regular local venue where friends and fans can come out to hear the tunes they love and to request new ones", something Scott thrives on. "Playing requests is one of my favourite parts of the business." And his most common request? "Without a doubt, the biggest request I get is "Piano Man", followed by Moondance" and "anything by Ray Charles".
He is currently a resident performer at Spencer's at the Waterfront in Burlington, and performs frequently at The Vicar's Vice in Stoney Creek. He has been a frequent performer at Pepperwood Bistro over the last number of years as well.
Scott Whittington lives in a 100-year old home in Southwest Hamilton with his wife Marsha Moffitt, a cellist with the Hamilton Philharmonic Orchestra, a 125-year musical institution in southern Ontario.
​

​
​
​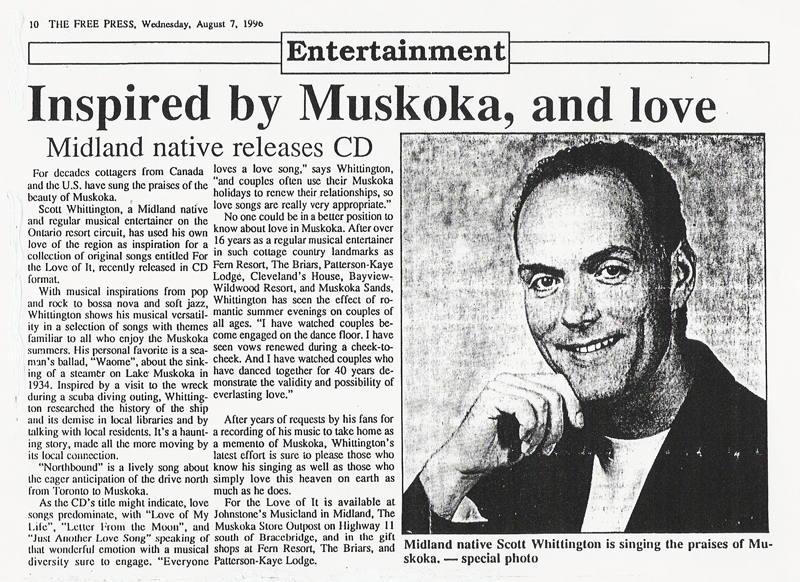 ​
​